Research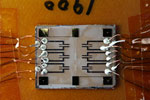 Towards Environmentally-friendly, Highly Energy-efficient Future Society Powered by Sensor Networks
We study micro/nano sensors and micro energy systems here in Kuwano laboratory. Our objectives include realization of environmentally friendly, highly energy efficient future society that utilizes sensor networks.
LatestNews
2017-02-16

Final lecture by Professor KUWANO.
2016-11-09

Ms. Sana Talmoudi received the Takeda Young Entrepreneurship Award 2016.
2014-10-27

Our project with toor(Mishima in Fukushima) were published in KAHOKU-SHINPO. → News.
2012-06-18

one of our paper entitled "Experimental Duffing oscillator for broadband piezoelectric energy harvesting" by G. Sebald, H. Kuwano in Smart Materials and Structures was selected as 2011 highlight paper
2012-06-18

Our project outline adopted to METI were published in NIKKEI SHINBUN and NIKKEI-SANGYOU SHINBUN.
Archives
What's New
▲PAGETOP