Research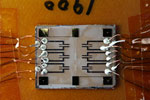 Towards Environmentally-friendly, Highly Energy-efficient Future Society Powered by Sensor Networks
We study micro/nano sensors and micro energy systems here in Kuwano laboratory. Our objectives include realization of environmentally friendly, highly energy efficient future society that utilizes sensor networks.
LatestNews
2012.6.18

Our project with toor(Mishima in Fukushima) were published in KAHOKU-SHINPO. → News.
2012.6.18

one of our paper entitled "Experimental Duffing oscillator for broadband piezoelectric energy harvesting" by G. Sebald, H. Kuwano in Smart Materials and Structures was selected as 2011 highlight paper
2012.6.18

Our project outline adopted to METI were published in NIKKEI SHINBUN and NIKKEI-SANGYOU SHINBUN.
Archives